By Karim Naguib
CEO | neGma
One doesn't have to look far, perhaps only in the mirror, to find someone who has experienced the frustration of technology that crapped out on them–that last iPhone or Android update that is killing them with shiny, new slow-as-molasses speeds, or the computer that suddenly decides to lose email or work, without any warning! In today's world I think it is safe to assume we've all felt that at one point or another.
But what if technology fails your business?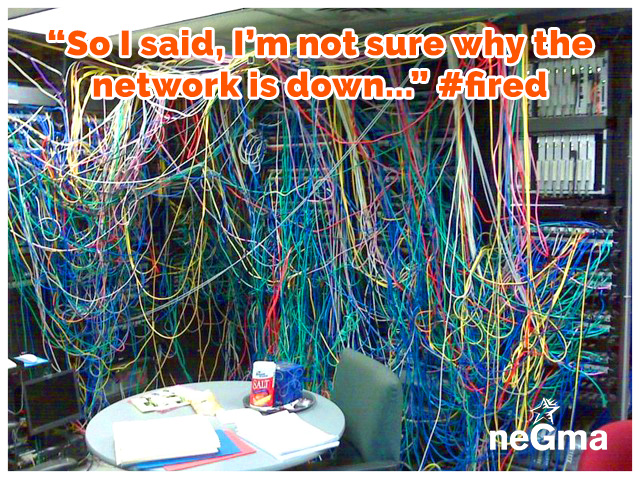 Jeff Stalnaker quipped in his article a few months ago, "What is your tolerance for downtime?"
It's an important question to ask yourself: What if?…
our power goes out?
our internet goes down?
our wireless stops working?
our email goes down?
our computers crash?
there's a fire? Or a flood?
To truly understand the impact of downtime on your business revenue, you must look at the revenue lost per hour.
What is the cost of missed sales opportunities–or lost sales that were already in process? But let's get a little more esoteric: What about your reputation? How will downtime affect your customers, or those "shopping" you?
In 2013 Amazon went down for 30 minutes and lost roughly $66,240 per minute. While that may be an extreme case (and mind-boggling), consider this:
"In a study by Dunn & Bradstreet, 59% of Fortune 500 companies experience a minimum of 1.6 hours of downtime per week. This means that if you take the average Fortune 500 company (at least 10,000 employees) paid an average of $56 per hour, including benefits ($40 per hour salary + $16 per hour in benefits). The labor part of downtime costs for an organization this size would be $896,000 weekly, translating into more than $46 million per year. –Evolven.com"
"$46,000,000 a year?? Well, those are still large companies–and that could happen to anyone!"
True story. But shouldn't precautions still be taken?
"A nearly two hour outage due to a problem with Google's DoubleClick servers is said to have caused between $1 and $2 million in lost revenue. –Tenscores.com"
If you knew there was something you could do to lessen the chance of this type of financially-impacting event, wouldn't you do it — shouldn't you do it?
Data Centers (DCs) have become big business these days, but relatively speaking, it seems hardly anyone knows it outside of large companies. Small/Medium-sized companies (SMBs) frequently fail to realize DCs are wise for them too; and are also at risk to lose money, just like those Fortune 500 companies, by keeping their networks on-site and in precarious (at best) environments.
We all laugh at photos like this. However, the sad truth is that we actually see this all the time as we go onsite for SMB IT consulting and/or support.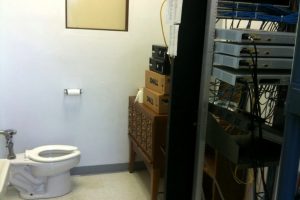 So what are the options? What am I supposed to do?
"Get out of the closet!" In utilizing DC services, there are 3 main choices from which to choose:
Colocation
Managed Services
Hybrid Solutions
Colocation: In short, this is a lot like renting an apartment, in to which you move your belongings. With colocation, you already have your network and hardware, you just need rackspace, power and internet. All of which a data center would provide–along with security, power backups, internet backups, temperature-controlled environments, fire suppression, 24×7 access to you equipment, etc… The list of added value that comes with data center usage is actually is quite long.
Managed Services: This is like moving in to a studio apartment that is already furnished, and comes with a maid and a handyman. With Manage Services, the Data Center should collaborate with you to determine exactly what you need to meet your businesses demands. They then bear the responsibility of providing the hardware, installing it, configuring it, and maintaining it for you.
Hybrid Solutions: Data centers that offer this, basically are allowing you to mix and match colocation and managed services. I.e. You have your own equipment, but you don't want to manage it anymore. Or you need new equipment, but will manage it yourself. A Hybrid Solution should generally allow any combination of "colo" and managed services.
Are there other benefits?
Absolutely! While benefits may be solution-specific, generally, one finds:
Cost savings
Across the lifetime of your systems, you will probably see a reduction in IT costs due to increased stability. With Colo especially, you'll save money with the reduction of in-house management costs.
Security and Data Protection
Increased security is inherent to the data center makeup. Both physical (access) and virtual (digital).
Network reliability
Multiple redundant internet solutions (called "blended" internet), power backups, generators, vastly faster and more stable bandwidth
Support
You'll always have a team of knowledgeable IT technicians at your disposal, for help.
Scalability
As businesses grow, so do their network needs. Data centers make this an easy process.
Disaster Recovery (DR)
One of the most important services, at the very least, to be taken advantage of, is secure back-ups of your entire system, in case disaster befalls your business. If one is doing backups onsite, and a fire happens…well, one gets the point.
Less Stress
Seriously. Think about how nice it would be to not have the staff complaining about, or reacting to, lost internet, emails, power etc… What if everything justworked?
"Okay you've got my attention. But where do I start?"
Look for a DC that will collaborate with you, and actually give you face time. It's so much nicer to be engaged with as a person, rather than a number. You know what I'm talking about!
Look for a "Tier III" data center or greater. Tier III is a classification that means they'll have redundant capacity components, dual-powered equipment and multiple uplinks, guaranteeing 99.982% uptime availability. Simply put: they rock and downtime should be an absolute minimum.
Look for great support. How long will it take to get a response to a support request? Do you get the sense their more interested in helping you solve thetotal problem, or simply what is on the surface?
Will they charge you for every little call and contact? Many will–ask them specifically about this. Especially with colo, you may simply need someone to quickly lays eyes on your equipment to check something. This is frequently referred to as "remote hands". It will say something about a company if they'll offer a little help for free!
If I have you thinking about all this, and you'd like more information about how a DC move can happen as easily as possible, drop me a line at shaal@negma.net. I'm happy to discuss your questions and needs!
visit the neGma website for more details on how we can help!
About Steve
I'm the Director of Sales & Marketing for neGma Business Solutions, a N. Dallas-based Tier III, SSAE16-SOC 2-Type 1 compliant Data Center specializing in Colocation, Managed Services, Hybrid Solutions, IT Consulting and Remote Desktop Support.
When I'm not at work, I'm usually spawning some kind of plan with my wife to climb something really tall. The last really tall thing was Mt. Kilimanjaro, and the next one appears to be a trek to Mt. Everest Base Camp. I also am a burgeoning rare and craft beer aficionado. And cigars. I love them too.
Seriously, drop me a line if you have any questions, or you didn't have a good answer to all the "what if" questions above! shaal@negma.net